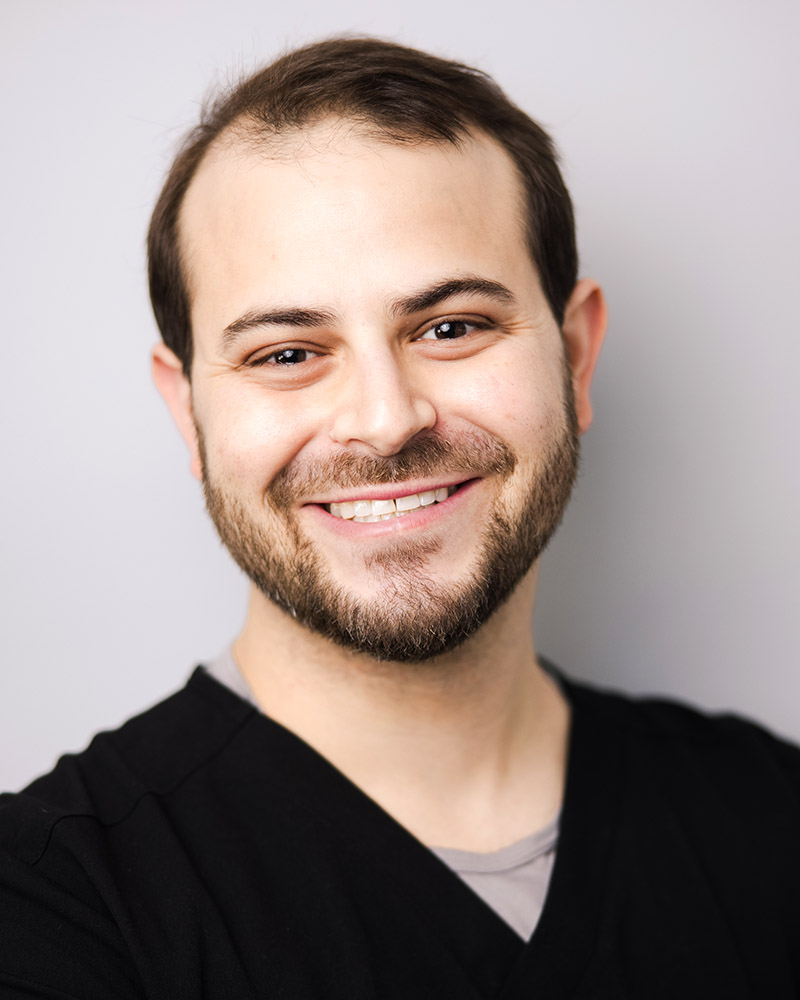 Dr. Yitzchak Feigenbaum brings a holistic, fun and passionate approach to oral health care. He helps his patients feel comfortable by creating relaxed surroundings that include good music and an open ear. Dr. Feigenbaum's patient and empathetic nature, along with his dedication to excellence, helps to ease the dental anxiety so many patients experience.
Dr. Feigenbaum attended the Yeshiva University, Yeshiva College and the Isaac Breuer College in New York, NY, where he received his Bachelor of Arts in Psychology degree, a Minor in Art and Associate of Arts in Judaic Studies. He continued his education at the New York University College of Dentistry in New York, NY, where he received his Doctor of Dental Surgery degree. Dr. Feigenbaum completed his General Practice residency at Jamaica Hospital in Queens, NY. He is an avid believer in continuing education to stay up-to-date on the latest dental technology.
Dr. Feigenbaum's areas of dental proficiency include general & restorative dentistry, fixed and removable prosthodontics and implant restoration. He is Invisalign® certified and treats patients of all ages. Dr. Feigenbaum is a member of the American Dental Association, the New York State Dental Association and the Academy of General Dentistry.
When he's not treating his patients, Dr. Feigenbaum enjoys spending time with family, cooking, gardening and home improvement projects.
Book Online Now
Complete the form below to book your appointment today.
Office Hours
Monday

8:30 AM – 5:00 PM

Tuesday

9:00 AM – 6:00 PM

Wednesday

8:30 AM – 5:00 PM

Thursday

8:30 AM – 5:00 PM

Friday

8:00 AM – 4:00 PM
CareCredit
CareCredit is a healthcare credit card designed for your health and wellness needs. Pay for the costs of many treatments and procedures through convenient monthly payments.
Our patients leave smiling


Marsha is ah-mazing!! Dr. Rashford was very attentive and gentle and made sure I was at ease. I'm a patient for life!! Love these people!

Livinginavalon



Great service and very accomodating

Jonathan R.



Dr. Rashford was the best dentist I've ever been to. She fit in all my fillings into one appointment ensuring that my week would not be ruined. She was courteous and polite as were the hygienists that worked with me. I couldn't be happier with my choice to visit! Thank you!!

Rebecaa M.



Friendly knowledgable staff

Melissa P.



Kind and talented with patients

Michael R.



Excellent service!

John V.



Dr. Eric is amazing. He did a wonderful job with my extraction and my flipper. I had little pain after the procedure.

Mary C.



New patient to this facility and from start to finish covering so many facets of work needing to be preformed, I am super optimistic right from the very first phone call to the office and arriving for an appointment to a facility that prides itself in cleanliness, functionality, and beautiful friendly career oriented faces. Each and every question I had and continue to have are answered with the b…

Gennifer R.



Nice people. Gwen is great

Hope H.



Very nice people. Professional

Leonard L.



Appointment time was planned perfectly no waiting. The staff is great :)) Easy to convey any problems to the dentist and he is quick to solve any issues. Scheduling was a breeze for the next appointment.

Celestine S.



Dr. Rebecca is the best!! Joan too!

Suzanna V.



The entire staff is friendly and professional. Great place! And I get the best cleaning every time.

Nicole K.



Excellent service

Jeanne C.



Prompt and courteous service

Michael R.



Dr. Rebecca is very professional and always takes her time explaining what she is going to do. She always checks to make sure I am comfortable and in no pain. She's phenomenal!!

Kaitlyn R.



Always very friendly and efficient!

Victor P.



Marcia and Dr. Eric!!

Jennifer B.



Professionalism and caring dentist

Christine R.



Cleaning done very well.

Susan T.



Friendly staff, Dr. Leo is very pleasant, caring and competent.

Howard J.



Dr. Rashford is super friendly, very gentle and skillful, and has a great hanshake.

Audrey D.



Gwen is the best….I wouldn't go to anyone else but Gwen….her warm smile greets you ..she is so friendly but most of all she does a wonderful job cleaning my teeth.

Kathy K.



Very nice people and professional

Leonard L.



GWEN …….she is the best

Kathleen K.



I am very comfortable with the staff and dentists there and that takes a lot for me…Terrible experiences in childhood visits many years ago.

Caleb M.



Dr. Eric always makes sure I am comfortable every visit and especially at my last visit! His assistants and receptionists are great too :)

Jessica O.



Excellent service, friendly staff

Cheryl S.



The reception staff are fantastic and my dentist and technicians are awesome

Beverley S.



The care from the staff

Jessica C.



Great service by the dentist.

Abigail C.



Excellent dental care, very professional, and friendly.

James T.



I've always been really scared to go to the dentist but Dr. Rashford made me feel really comfortable. The rootcanal I got was pretty quick and I had no pain afterwards I'm definitely a happy camper!

Worldof_ A.



Great satisfaction with care given

Ceasarius C.



Dr Rashford is amazing

Elizabeth K.



Friendly, professional staff. Dr. Eric explained everything he was going to do & answered all of my questions, which put me at ease.

Geraldine D.



Always so kind and considerate!

Jackie S.



Friendly staff, sincere.

Joanna T.



My entire family goes to this practice and have been for years. I'm big on cleanliness and this office passes the test. Staff is friendly and I highly recommend.

Kate G.



DR, Rashford were kind and gentle with me i am very nervous and dread getting the injections but it was great, thanks Doc,

Pearline Y.



My hygienist is the best

Evelyn O.



Great friendly service

Christopher L.



have always had wonderful care here. all staff are very nice

Christine R.



Everyone was caring, kind, professional and gave me hope. The place is beautiful and very clean.

Nancy O.



I was in and out with little wait!

Ken L.



Great customer service and clinical care. Very thorough exam and everyone was super nice, friendly, and professional.

Brenna M.



As always the staff and Dr. Rashford were super friendly and professional.

Randi R.



Gentle dentist and hygienist.

Katherine S.



Dr Becky is the most gentle caring dentist I have ever had the pleasure to see. I have always put my dental work at the bottom of the list due to my anxiety, but she has made this process so much easier for me!

Melissa Y.



Everyone very caring and understanding

Raquel G.



Professionalism, timeliness of appointment and pain free

George V.



My answer would be 14 however it woul not move off of 5

David L.



I have been a patient here for about 10 years and absolutely love it. Everyone is friendly and helpful. I look forward to my check up every 6 months to chat with my dental hygienist Marsha. She is very welcoming and comforting.

Ivette T.



Every staff member I've dealt with is personable and professional. They make "going to the dentist" a pleasurable experience every time.

Nicole K.



The office was clean staff was friendly and knowledgable and it's the best dental office in town. Marsha makes my appointments easy and stressfree

Norma D.



Clean and professional

Mark O.



Excellent and friendly service!

Angela H.



I love this place! I am new to the practice and feel like I' ce gone there forever. All of the employees are extremely professional, knowledgeable and pleasant. They are also thorough and timely. Dr. Eric W. is honest and makes you feel like you are in goods. Overall Dolson Ave. Dental is 'on point'!!!!

Amy C.



All around excellent service

Arthur C.



Friendly office staff

Vidal M.



Friendly staff. Professionalism.

Katherine S.



Feel like dr is giving me his compete attention during my appt

Nancy W.



The staff are always friendly and Dr.Waldman does great work

Christopher L.



The front staff is friendly and knowledgeable The assistants always have a smile on their faces. And the doctors are amazing !!!'n

Colleen W.



Dr. Leo is o nice, she takes the time to sit and talk with me . She explains everything she does. She also really listened when we talked about a tooth problem I had. Marcia was also very nice during my cleaning.

Heather F.



The staff is friendly; I love the hygienist that my kids see – she's very personable. The dentist is non judgemental

Chloe T.



Excellent service and my daughter came out smiling and ready to come back for her next visit.

Saoirse K.



The staff is always pleasant and trustworthy. I rely upon their experience.

Donna L.



Every experience is so comfortable and friendly. The staff is amazing…..the place is super clean and inviting.

Emily C.



the entire staff is professional, efficient and kind. The office is very clean too. Check in and out is always quick and never has been a hassle! It's always a pleasant experience.

Aubrey G.



Very friendly and professional staff.

Traci H.



Outstanding customer service but most importantly the Doctor patient relationship. This is an art that has long past in the medical field. At Dolson Avenue Dental they present this family oriented atmosphere, which show they do care about you.

Cory Z.



Friendly, complete explanation of what is going to be done, on time appointments

Stephen W.



Dr Becky was friendly, calm during the procedure, and took time to ask me if I had questions and then answered my questions.

Nicole B.



Been a "scarity cat" for many years. So pleased with the care at Dolson Ave. Dr Rashford a super dentist.

Eleanor S.



Dr Becky is AMAZING. I have never felt so at ease in a dentists office. I am so so happy I found her!!!

Melissa Y.



Becky made my daughter feel comfortable and didn't have us get work done on baby teeth that were close to falling out. As was previously recommended. The office also accommodated a cleaning that day even though it wasn't scheduled.

Grace M.



Everyone is fantastic all the time for me. I like that when you make an appointment at 3:00 they do NOT leave you waiting in that waiting room for an hour. Dolson Ave Dental is always on time with their scheduling. They got it together. Their system works. Also all the dentists are personable and relaxing. Thank you.

Kathleen N.



I was very happy that I didn't have any pain during my procedure. The doctor was very concerned about not causing any pain.

Barbara K.



Marsha is amazing. I've never been comfortable at a dentist and she calmed me down and kept checking to see if I was ok. The cleaning was thorough and very comfortable. Hands down, my best trip for a cleaning in my life. I wanted to hug her afterwards!!! So pleased.

Kat E.



Service and friendly staff

Dean E.



Friendly staff

Aaron A.



The staff is very friendly and Dr. Rasford made sure that my daughter feels secure.

Rhianne O.



Gentle, thorough cleanings. friendly and personable staff. organized appt process. very clean and tidy dental office.

Andrew D.



Staff and dentist were friendly and very helpful

Barbara N.



Everyone is so patient and nice!!

Taylor M.



We recently took our children to Dolson Ave Dental for their full check up and cleanings. The office is very nice as was everyone who works there. Our children were very comfortable and so were we. We will continue to use Dolson Ave Dental for them and ourselves too.

Kim G.



Quality and professional services. Dr Waldman is excellent in his work and chair side manner.

John B.



Very pleasant staff and very kid friendly.

Gavin G.



Dr. Rashford and her staff are amazing, you don't take an arm and a leg in exchange for fixing my teeth, the ladies at the front desk are courteous, competent, and friendly, and I don'the suffer excess misery after my appointments.

Joseph B.



The care and kindness in this office is excellent. I have recommended Dr. Waldman to many friends and coworkers.

Sheila C.



My entire family uses Dolson Avenue Dental. Every staff member is great. Dr. Becky is a doll with the kids. She knows how to get them as comfortable as possible. Definitely recommend this dentist office for adults and children!

Tonya P.



Dr Waldman is the best. He always askes how I am doing during a procedure & is 100% painless. I have been going to them for over 20 years.

Nicholas M.



I am a new patient to this practice and I am very impressed. Dr. Eric put me at ease, explained everything, and took perfect care of my dental problem. The hygienist, Marsha, was very personable and gave me a very thorough cleaning. I highly recommend Dolson Avenue Dental.

Diane H.



The professional way that the office operate and the friendliness of the staff I have been a patient for over 15 years would not think I'm going to anyone else but dr. Eric

Vidal M.



Best ofc ever!! Every one is always pleasant, helpful, and welcoming. The entire staff is wonderful. Luv them all!!

Margarethe J.



Outstanding customer service and Dr. Becky cares about her patients.

Cory Z.



I love how they treat my daughter. It's a very nice clean and professional place.

Kristy G.



Gwen always does a fantastic job cleaning my teeth. She is very friendly too. All the dentist here are skilled and great also.

Cristy S.



I love this dental practice. Dr. Eric Waldman is a fantastic dentist. All four of my family members have been cared for by Dr. Waldman and he really takes his time, is always pleasant, caring and extremely skilled. The hygienists are lovely and thorough. I can't say enough about this practice. Wonderful!!

Emily C.