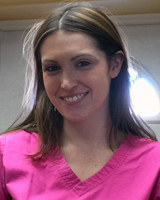 Born and raised in Orange County, Dr. Rebecca Rashford returns to the area to provide dental treatment. Dr. Rashford attended Syracuse University for a bachelor's degree in Biochemistry and Stony Brook University for a Doctorate in Dental Surgery with Distinction in research.
Treating adults, children and special needs patients, Dr. Rashford focuses on providing ideal dental treatment in a relaxed setting. She looks forward to seeing you at Dolson Avenue Dental and helping you smile!
Dr. Rashford enjoys playing pool, traveling and loves spending time with her faithful dog.