Why Flossing Is a Must, Not a Maybe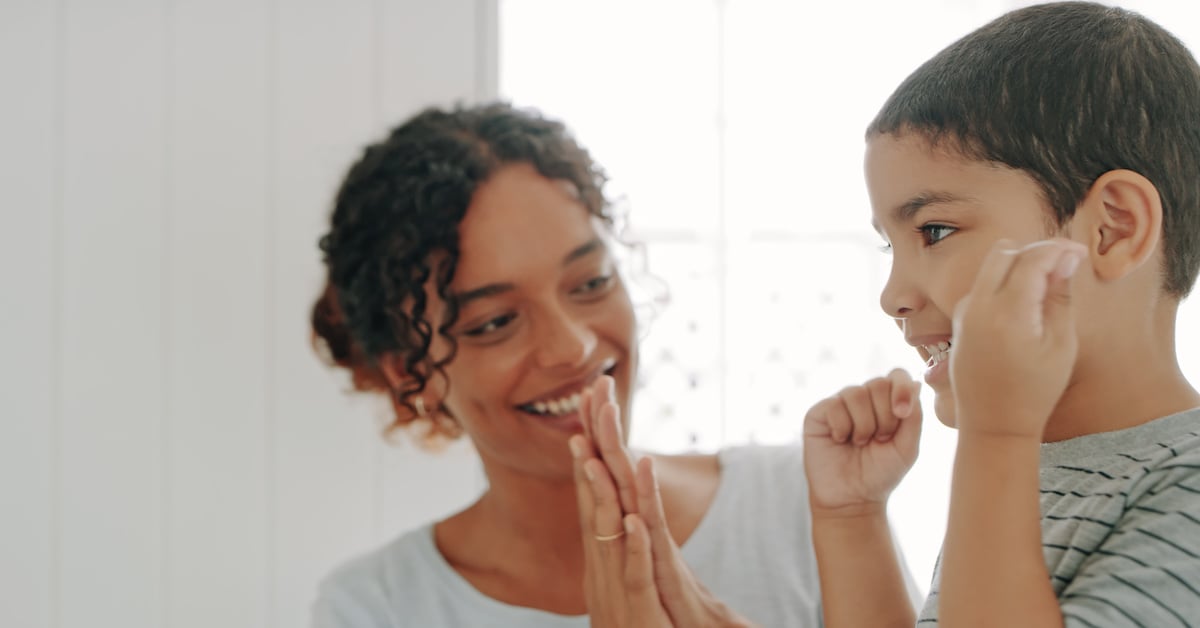 It may seem harmless to skip flossing every once in a while, but take it from us, that would be a very bad idea. Most of us have been taught that brushing your teeth twice a day is enough to make a complete dental health care routine. However, that's not entirely correct. Flossing properly once a day is essential to protecting your gums and teeth. When you don't floss regularly, plaque and debris stick on and between the teeth creating problems that are painful and expensive to fix. So, let's talk about the benefits of flossing and why, if you don't already, you should incorporate flossing into your dental care routine.
Why Flossing Is Important
Regular flossing is necessary to remove the food debris and plaque that can collect between teeth and are usually missed during brushing. By flossing at least once a day, you can remove these invaders before they begin to attack your tooth enamel and gums. Plaque and the resulting bacteria, which is produced when the acids interact with the sugars and starches from the foods that you eat, are the key causes of tooth decay and many other serious issues that directly affect your teeth and gums. When plaque collects on the teeth, it can irritate the gums and lead to the first stage of gingivitis. Gingivitis is curable, but most importantly, it's preventable with good brushing and flossing techniques. If you don't already think it's worth it to start flossing, the following will make you certain.
What Happens When Teeth Are Not Brushed and Flossed?
Failing to brush and floss your teeth can cause serious issues (as you already know) that may include tooth decay, chronic bad breath, cavities, and the loss of your teeth to gum disease. When you avoid brushing and flossing, or skip a couple days just because, the plaque and bacteria in your mouth work together to start wreaking havoc on your gums and tooth enamel. This can lead to discoloration of the teeth from the build up plaque and terrible breath from the bacteria and eventual decaying of your teeth.
But wait, there are more serious problems with not brushing and flossing! The most serious threat that poor dental hygiene can pose to your teeth might be gum disease. Understanding how gum disease works can help you to avoid this serious illness, which can cause the loss of teeth and other issues related to your overall health.
The CDC reports that almost half of all adults in the United States over the age of 30 years have periodontal disease, which is another name for gum disease. Unfortunately, most of those individuals do now know that why have gum disease and don't seek care until it's too late. In the later stages, gum disease is only able to be stopped, the damage cannot be reversed. Even worse, the inflammation that causes gum disease is linked to other serious health issues such as cardiovascular disease and pneumonia, to name a few.
Thank goodness you can brush and floss at home to remove the deadly plaque! Another good practice is to get regular teeth cleanings from your dentist. While helping to manage plaque and tartar, teeth cleanings can also go a long way toward preventing the development of gum disease in vulnerable individuals. Individuals with predispositions to gum disease or those that have other risk factors should visit with their dentist frequently and develop a care plan that helps to keep their teeth and gums in the best shape possible.
Flossing for Children: Why They Need to Floss Too
From the time your baby has two teeth adjacent to each other, you can begin to floss his or her teeth. It is important to floss baby teeth as well as permanent teeth to protect against cavities, tooth decay and gum damage. Teaching your children the proper technique for flossing at an early age will make it much easier to get them to continue these habits into adolescence and adulthood. Keeping baby teeth healthy is a great way to ensure that your children have the healthiest teeth possible throughout their lives.
Encouraging Your Kids to Floss
Making flossing fun is a great way to help your kids develop good dental hygiene habits. Below you'll find some helpful hints for teaching your children the importance of brushing and flossing.
Create a chart, hang it in the bathroom, and apply stickers for each day that your children successfully brush and floss their teeth. This is a great way to motivate them to complete these dental hygiene tasks every single day, and have fun doing it.
Floss in front of your children and model good dental habits. This is another solid step in the right direction for helping your children maintain healthier teeth and gums.
Make sure that your child's flossing and brushing equipment is appropriately sized. Adult-sized toothbrushes and flossing picks can sometimes be too large for smaller hands, and quite boring. Select child-sized dental hygiene tools can help your children feel much more comfortable throughout the process of cleaning their teeth at home.
Offer praise when your child successfully flosses his or her teeth.
Giving encouragement will make this task more appealing for kids, and hopefully invite them to build good habits.
The Four-step Flossing Process
Flossing techniques usually involve four basic steps to achieve the cleanest and healthiest teeth:
Cut off a long string of floss. Wind the floss around your fingers and thumbs to create tension on the strand.
Move the floss carefully between the teeth using your index finger as a way to guide the floss.
Gently move the floss up and down and between adjacent teeth.
Use clean, fresh floss for each pass between your teeth to prevent leaving bacteria behind. Rinse your mouth when finished.
Added Tools for Proper Flossing
Some patients prefer the convenience of an electric flosser over the use of manual flossing. If you lack manual dexterity, an electric flosser or a water flosser can be a good option to help you floss with ease. These devices take much of the guesswork out of flossing your teeth properly and can help to make the process more pleasant for those with difficulty managing the delicate motions needed to floss teeth safely.
Individual floss sticks are another proven method that can make it easier for you to floss properly. These floss sticks are designed to be thrown away after each use, which makes them easy to bring along with you everywhere you go.
We Offer Comprehensive Dental Services in Middletown
Call us today at Dolson Avenue Dental to schedule your first appointment with our team. We look forward to the chance to serve you.