Posted under:
Root Canal
Posted on: September 1, 2022
Gum Care Awareness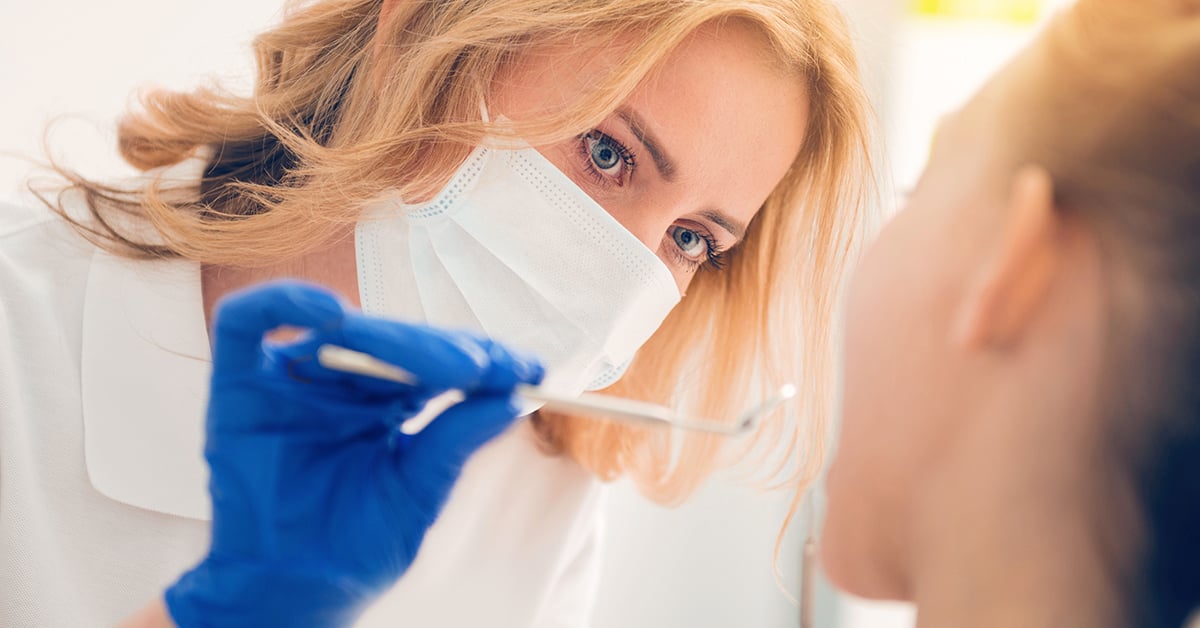 September Gum Care Awareness Month
Many people are unaware of the importance of healthy gums to their good overall health. Statistically, gum disease is the leading cause of tooth loss in those who are 35 and older. Research has also linked gum disease to serious diseases such as cancer and dementia.
Call our office today to schedule your dental exam and cleaning appointment. We're here to help you get the healthiest gums.
What's the Best Way to Maintain Healthy Gums?
Maintaining good gum health requires no specialized tests or equipment. It's neither painful nor invasive. All you require is some quality equipment that you probably already own, such as:
A soft-bristled toothbrush that's appropriately sized for your mouth
Toothpaste
Dental floss of your choice, whether traditional floss, a flosser, or floss picks, doesn't matter
Antibacterial mouthwash, which is optional
All your dental products should carry the ADA Seal of Acceptance, so you know you're using a quality product. Although mouthwash is optional, it can eliminate residual bacteria that may lurk on the rough surface of your tongue.
The American Dental Association recommends that you brush and floss a minimum of twice daily, and one time should be just before bedtime. Don't eat or drink anything but clear water after your nighttime brushing and flossing. If you use mouthwash, this is a good time to use it so that bacteria doesn't remain on your tongue and gums overnight.
Will Good Oral Hygiene Prevent Gum Disease?
Despite your best efforts, however, you may develop gum disease. If this happens, be sure to make a dental appointment without delay. When gum disease is treated in its initial stage of gingivitis, it can be cured, and any damage can be reversed. If, however, it remains untreated, it will progress to more advanced stages and cause irreversible damage. In addition, treatments will be more expensive, more invasive, and they'll take longer. So, if you notice gum disease, don't delay seeking treatment.
Are There Obvious Symptoms of Gum Disease?
Seldom does gum disease present asymptomatically. The following seven symptoms can alert you that you may have gingivitis developing and should make an appointment with your Middletown dentist.
Abnormal gaps between your teeth or loose teeth
Bleeding during brushing or flossing
Gums that are pulling away from your teeth
Halitosis or an unusual taste in your mouth
Irritation or infection at the base of your gums
Inflamed, sore, or swollen gums
Pockets of pus or inflammation between your teeth
The presence of one or more of these conditions may indicate that you have gum disease and should make a dental appointment without delay.
What Happens If I Have Gum Disease?
During your initial appointment, your dentist will thoroughly examine your teeth and gums to determine whether you have gum disease, which stage it is in, or if there's another issue that needs to be addressed.
If you have gum disease, your dentist will suggest treatment options and ways to prevent a recurrence. Your dentist is your best ally in maintaining a healthy mouth, so don't hesitate to ask questions and enlist their help.
How Does Gum Disease Progress?
The three stages of gum disease are:
Gingivitis: The first stage of gum disease is gingivitis, and it's the only one that's curable. Usually, it occurs due to a tartar buildup that causes your gums to become inflamed. The only symptom you may notice is minor bleeding when you brush or floss. Your dentist can clean your teeth and recommend adjustments to your oral hygiene routine so that the problem doesn't recur.
Periodontitis: The second stage of gum disease is periodontitis. By this time, there will be irreparable damage to the bones and tissues in your gums. Although your dentist can ameliorate some of the damage with antibiotics, scaling, and root planing, the procedures are invasive, expensive, and take considerable time. It's much easier and much less expensive to maintain good oral hygiene.
Advanced Periodontitis: The third and most serious stage of gum disease is advanced periodontitis. By this time, some or all of your teeth may have fallen out, and the bones and tissues surrounding your teeth will have been destroyed. There is no cure at this point and oral surgery and reconstructive dentistry, including dentures or implants, are the only options to restore functionality. Treatment at this point is much more invasive and takes considerably longer than in the first two stages. The best remedy for advanced periodontitis is prevention. When you don't allow your gums to deteriorate to this stage, you maintain much better dental and physical health since gum disease has been linked to serious physical diseases.
It's sad but true that some people reach this stage when it can all be prevented through good oral hygiene, i.e., brushing and flossing.
Maintain Healthy Gums to Have a Healthy Body
Although having healthy gums and teeth doesn't guarantee that you'll have a healthy body, it stacks the odds in your favor. Research has linked gum disease to serious health issues such as:
Cancer
Cardiovascular Disease
Dementia
Diabetes
Hypertension
Stroke
Don't become one of these statistics. Keep your gums and teeth healthy by following the good oral hygiene recommendations laid out by the American Dental Association.
We also recommend that everyone who is at least 18 get an oral cancer screening during their exam. The screening is non-invasive and it's not painful; your dentist will conduct the screening during your dental exam.
Need to Schedule an Appointment?
If you haven't had a dental appointment in a while, if you need your annual exam, or if you want an oral cancer screening or any other dental procedure, then call Dolson Avenue Dental at (845) 512-1246, and we can help you. Our Middletown dentists are some of the best, and we'd love to help you keep your gums and teeth as healthy as possible.
Your dentist is your best ally in your efforts to maintain good oral health, so call us today. You'll be glad you made the call.